Hope, Recovery and Wellness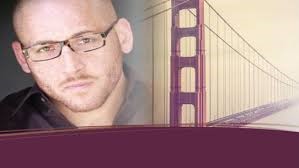 Tuscola Behavioral Health Systems will once again be hosting Kevin Hines in our community. Kevin is an international speaker, author, filmmaker, suicide survivor, suicide prevention and mental health advocate who has reached millions with his story of unlikely survival and his will to live.
If you would like an opportunity to hear his journey, please join us for one of the dates listed below.
Monday, May 6, 2019 at 8:30 am at the Bullard Sanford Memorial Library – 520 W. Huron Ave., Vassar, MI
Monday, May 6, 2019 at 3:00 pm at the Technology Center – 1401 Cleaver Rd., Caro, MI
Tuesday, May 7, 2019 at 1:00 pm at the Technology Center – 1401 Cleaver Rd., Caro, MI
A community session will take place on Monday, May 6, 2019 at 6:30 pm at Caro High School Auditorium.
Kevin will be sharing his story to Caro and Kingston students, providing a message of hope and recovery.
Kevin is one of the few that have survived jumping off the Golden Gate Bridge. He will discuss how his bipolar disorder led to his attempted suicide and how he uses his experiences to reach out and connect with others. Kevin is a mental health advocate, award-winning global speaker, bestselling author and documentary filmmaker who reaches the audience with his story of an unlikely survival and his strong will to live. Two years after he was diagnosed with bipolar disorder at 19 years of age, he attempted to take his life by jumping from the Golden Gate Bridge. The fall would break his body, but not his spirit. Come out to hear Kevin's story, a remarkable testament to the strength of the human spirit and a reminder for us to love the life we have.
Click on the following link to watch the official trailer of the documentary film featuring Kevin Hines - Suicide: The Ripple Effect.
---
IT CAN STRIKE ANYONE, ANYTIME
Abraham Lincoln. Michelangelo. Beethoven. Audrey Hepburn. Terry Bradshaw. Brooke Shields. Jane Pauley. John Lennon. Britney Spears. Jim Carey. My mom. My sister. Your brother, cousin, uncle, best friend. Doctors, lawyers, rich people, poor people, movie stars, rock stars, teachers, grandparents, presidents, sports stars, restaurant owners, hair stylists, pretty girls, thin girls, cheerleaders, football players, happy people, anybody, anyone, anytime – including you and me.
---
WELCOME!
The staff of Tuscola Behavioral Health Systems (TBHS) would like to welcome you and your family to the local community mental health provider for Tuscola County residents. We provide effective, comprehensive, quality treatment to help you deal with your struggles, whether related to mental illness, developmental disability, or co-existing substance use disorder. Co-existing means having two conditions at once, such as a mental illness and a substance use disorder. TBHS recognizes that reaching out for help can be hard. TBHS wants you to know that working together with you and if you choose, your family, helps build the necessary partnership to address your needs openly with care and respect. We will listen to you in detail, call you by your name and accept you as a person.
NO WRONG DOOR and MANY RIGHT DOORS…
TBHS has a "No Wrong Door" policy. This means that you will be assessed and receive care and treatment no matter where you enter our system. This includes service supports and collaboration to help address your identified needs. If there is a problem with eligibility for services, you will be assisted in finding the right supports and services in the community as well. This is an ongoing process as we strive to provide seamless and personally meaningful care.
OUR GUIDING PRINCIPLES…
Your care is comprehensive - it meets your needs individually and covers all areas of need.
Your care is timely - care is delivered quickly and efficiently to meet your needs.
You and your recovery are priorities - we are responsive to assisting and supporting you in your journey toward prolonged wellness.
Your care environment is of great importance - our facilities are quiet, comfortable, safe and clean.
Your care is targeted to your situation - care is geared toward respect of all ages, races, cultures, gender, orientation, urgency of need and individual need.
Your care is delivered in an open, accepting environment - TBHS staff work hard to gain and improve the skills and approaches necessary to address through treatment the behaviors and issues that go into mental health, substance abuse, developmental disabilities and co-existing disorders.
Your feedback is essential - your level of satisfaction helps us know how to improve our system of care.